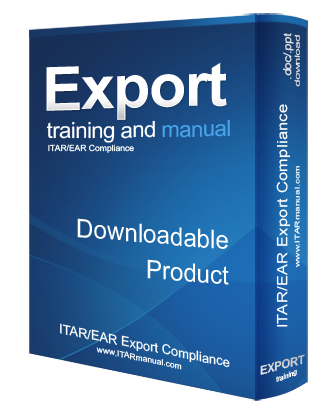 ITAR Compliance Starts Here.
If you're building an export compliance program, this is the product you're looking for.
You could easily spend hundreds of hours or thousands of dollars in consulting fees to draft policies, procedures and training for an export compliance program. Add to that the enormous risk involved with making a mistake and it's easy to see why our fill-in-the-blank style compliance products are the foundation for programs for thousands of companies.
Whether you have two employees or two thousand our Export Compliance Package is the best starting point for your program. For your peace of mind, our products are written and maintained by licensed US Customs Brokers and are built on decades of experience exporting everything from sensitive technical data to military hardware.
What you get
Our Export Training and Manual kit includes the two most sought after products for ITAR and EAR restricted exporters:
---
1. A complete, fill-in-the-blank style export compliance manual
Designed to fit the needs of the vast majority of exporters, the export compliance manual addresses crucial issues like:
Training and Awareness Issues
Scope and purpose of a compliance program
Penalty awareness
Definitions, terms, and acronyms
Agency regulations
Types of exports
The purpose of compliance
Internal/External Procedures
Identification, receipt and tracking of controlled goods
Restricted exports
Licensing policies
Sample control statements
Record keeping
Operations/Shipping and Receiving
Sample Policies
E-mail and electronic communication
Handling of foreign nationals, trade shows and meetings
International travel
Electronic data storage
Staff training
Internal monitoring
Commodity jurisdiction
Voluntary disclosure
Mergers and acquisitions
Sales and marketing
Contract writing
---
2. A professionally written staff training program
This product is the result of years of presentation experience, feedback and technical knowledge compiled by industry experts. It has been rigorously reviewed by a licensed US Customs Broker and is based on more than 35 years of export compliance experience. On average it will save you more than 100 hours of in-house development and thousands of dollars in consulting fees.
The Sample Export Training Presentation contains more than 50 slides that have been carefully reviewed by export professionals. The majority of the presentation is delivered in an easy to understand question and answer format. It's specifically targeted at company employees and stresses their role and responsibilities in the compliance process.
In six critical sections, we cover:
export controls
compliance
enforcement
consequences
governing law
the Export Administration Regulations (EAR)
the International Traffic in Arms Regulations (ITAR)
deemed exports
foreign nationals
methodology
and more!
In addition to the slides, we've added plenty of additional notes for the speaker containing definitions, real-world examples, helpful hints, and specific citations. Our goal is to provide a product that can be presented by an inexperienced compliance officer as easily as an industry veteran.
The presentation contains sections on both the Export Administration Regulations (EAR) and the International Traffic in Arms Regulations (ITAR). Either of these sections can be easily removed to fit your company's needs.
Fill-in-the-blank Format
Fill-in-the-blank style PowerPoint and Word documents make customizing your program a snap!
Create and Print
Build and print a custom compliance and training manual for your organization that they'll use for years to come.
Pdf Included
Pdf files are included for easy review on mobile devices and document review.
Our Guarantee
If you are not 100% satisfied with your purchase for any reason, let us know. We'll resolve the problem or refund your money.